Flying Colors have been bringing you some of the best airliner decals since 1998. We believe in absolute perfection and will never compromise on quality or accuracy.

We currently have the MD-80 Detail sheet and 767 Detail Sheet at the printer. They should be available in 3-4 weeks. Please stay tuned for the announcement once available.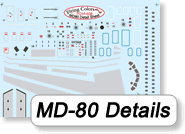 McDonnell Douglas MD-80 Detail Sheet
McDonnell Douglas MD-80 Detail Sheet with enough doors and windows to make any version of the MD-80 family.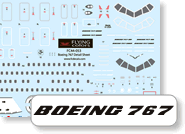 Boeing 767 Detail Sheet
Boeing 767 Detail Sheet with full set of windows and doors in gray and white. Plus dozens of other details and both types of over-wing escape routes.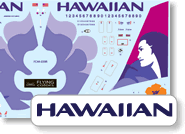 Hawaiian Boeing 767
One of the most beuatiful schemes ever designed. The Hawaiian 767 sheet has been re-designed for easier application, better fit to the Zvezda kit, and extra details.
Latest Releases
Modeling links
Gift Certificates